Walk & Spot: Campground Loop
With this great stretch of warm weather, our animals (and farmers!) are happy to be outside. But they're not the only ones who can enjoy the Wolfe's Neck Center landscape—we encourage visitors to walk the property and experience organic farming in action.
With the upcoming long weekend and beautiful forecast, what better way to spend it than by heading to the farm for a walk with the family or friends. Here's a loop that will take you through the various ecosystems across the campus and give you a look at our campground (opening June 1 for Maine residents!). This walk is just under 2 miles, and the perfect way to spend an afternoon. You get a little bit of everything – animals grazing on pasture, seedlings popping up in soil, and waves lapping on the shore of Casco Bay. Can you spot everything our educator saw on his walk? In no particular order, keep a look out for these 'Spotted' signs of farm and nature. Make note of what else you see that would be a good addition to this list.

The dark outline indicates our recommended loop through the campground, with a stretch running along Burnett Road. If you're feeling adventurous or want more time in the forest, head out onto our Farm Loop Trail system. The trailhead is located behind the Livestock Education Barn.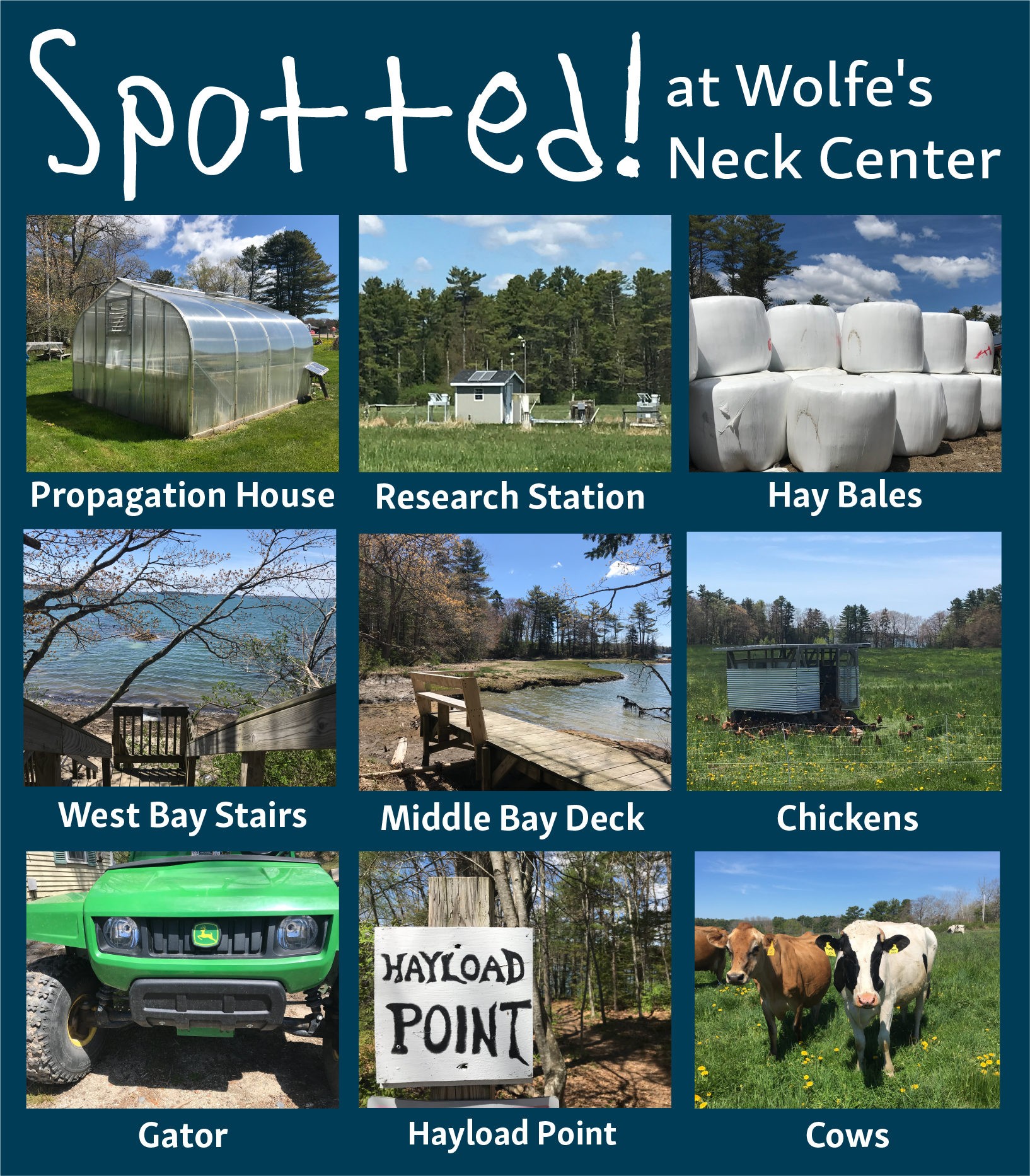 See what you can spot on your walk (in no particular order!). These are signs of life on our farm and campground.
Propagation House: This is where our fruit & vegetable farmers start the seeds that are then planted in the West Bay plot. Our vegetable farming is certified organic and 100% pesticide-free. Produce is sold as part of our CSA program, sold in our Farm Store and Farm Café (both seasonal, opening mid-June for online orders/curbside pick-up), and donated to local food pantries.
Research Station: This weather station structure has been on site for years, but we have recently expanded its use for our increased agricultural research endeavors. Cameras installed on the top monitor the cyclical patterns of the field, and the inside stores monitoring equipment and hardware for multiple research projects happening in partnership with regional universities.
Hay Bales: Haying is a critical component of our pasture-based dairy operations. Our farmers hay the fields through the summer months, then dry and bale it for use as cow feed in the winter months. This supplements their diet along with organic grains when not out on pasture grazing.
West Bay Stairs: Take the steps down to our kayak launch point. Kayaks are available to rent at high tide in the summer months. Call our campground office for details, (207) 865-9307.
Middle Bay Deck: A 2019 re-route of the eroded Farm Loop Trail stretching between Middle Bay and West Bay left what was once a bridge into an observation deck. Savor the tranquil views of Casco Bay, equally picturesque at high or low tide.
Chickens: Our laying hens live out on pasture, pecking away at the grasses and adding nutrients back into the soil. Eggs are sold in our Farm Store and used in our Farm Café. Pasture-based hens produce delicious and nutritious eggs!
Gator: With farmers on their feet all day, sometimes the best way to get from Point A to Point B is by way of gator! Be on the lookout for other farm equipment, like tractors or the skid steer, and bonus points if you see one in use.
Hayload Point: One of the most popular views at Wolfe's Neck Center comes from the tucked-away Hayload Point along the edge of West Bay. Grab a seat at the stone bench and think of all you are grateful for.
Cows: A trip to the farm would not be complete without a wave to our dairy herd. You'll likely find them out on pasture in the warmer months, but the Organic Dairy Barn is their true home. They return here twice daily for milkings at 4:30am and 4:30pm. The organic milk is then sent to Stonyfield in New Hampshire to be turned into the delicious yogurt you see in the grocery store.
← Back to Educational Activities