Your Winter Visit
We're having an atypically long February with it being a leap year, and for us that means more time to spend winter at Wolfe's Neck Center! It's the perfect time to get outside, get active, and make the most of the peace and quiet of the season. Gear up for your farm visit with layers to keep you warm and an idea of what to expect when you arrive:
A Spectacular View
Make sure to drive onto Burnett Road via Wolfe's Neck Road for a beautiful view overlooking Casco Bay. The ice-covered shoreline is a sight to see, so bring your camera and pull over for a good look!
When you arrive at the main campus of our farm, you'll find our Wishcamper Livestock Education Barn behind our farmhouse offices and the adjacent red pole barn. Park in the barnyard and take your time wandering through these open spaces.
Livestock Education Barn
Start your farm visit with a visit to see the animals! Our Wishcamper Livestock Education Barn houses our goats, sheep, and chickens. We anticipate around 15 lambs from our ewes in May, so be sure to say hello to the expecting mothers.
Meet our three male Oberhasli goats, Ghost, Jack, and Snuggles. They play an important role here on our farm as part of our educational programs. Farm Camp participants learn how to care for them, and we also take them on our popular Goat Hikes.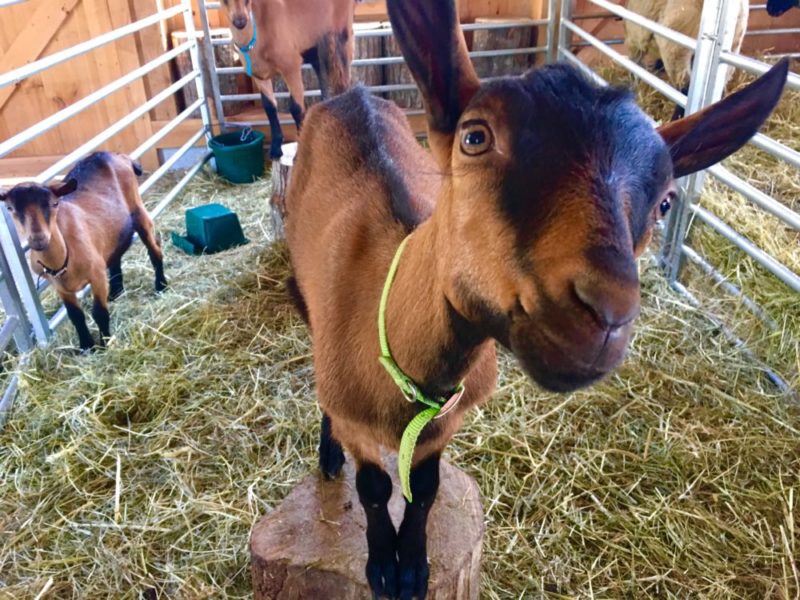 Red Pole Barn
This is the former site of our organic dairy cows, who have since moved to a new barn a few hundred feet down the road. It is currently being used to house our newborn calves, ranging from one week to two months old, and our heifers.
A new update to our housing is that instead of raising the calves individually, they are now kept in group pens. They wear jackets when they are young and the weather is cold, which keeps them warm and helps them use their calorie intake to grow.
What's in a name? The calves are named by taking the beginning letter of their mother's name. Our apprentices have the special job of choosing a name that best fits the calf!
On your right as you walk through the barn are the heifers (young female cows who have not had a calf). This small group of calves are between 3 and 6 months of age and are living together after being weaned off of milk. They too have a bedded pack to rest on and are fed several times a day to make sure they have plenty to eat to help them stay warm and grow.
Take a closer look…You'll notice these calves have shaggy looking hair which is the winter coat they grow out in response to the light change in the winter. Can you spot the twin heifers, Silky and Sapphire?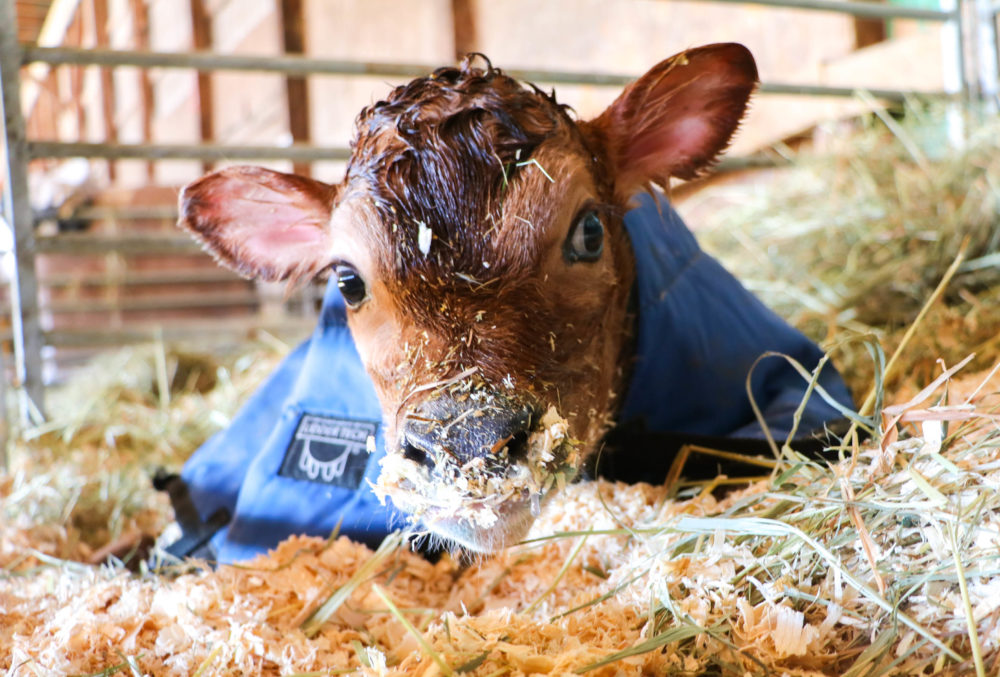 Explore the Snowy Landscape
This quiet season gives visitors a chance to explore the campground on foot. Bring out your snowshoes for a peaceful walk through the campground roads, which are unplowed in the winter months for trail use. Leashed dogs are welcome, too. Come prepared! Be sure to wear layers and be conscious of the conditions.
West Bay Loop 
Closer to the Little River Bridge is the West Bay of our campground. Walk this loop for a beautiful view of Casco Bay through the trees.
East and Middle Bay Loop 
Across from the Campground Office (closed for the season), is a road through the East Bay and Middle Bay sections of our campground. Walk or snow shoe through here for a wintry wooded landscape and some water views. Look out for birds and other wildlife in the trees or tracks in the snow!
Farm Loop Trail 
On the wood line behind the Wishcamper Livestock Education Barn, you'll find the Farm Loop Trailhead. For a full winter adventure, head out in this direction for a wooded walk and views of the marsh. You could also divert over to the Organic Dairy Barn via our Discovery Trail, which runs along the hillside parallel to Burnett Road.
Whichever direction you head on your snowy walk, make observations of the wintry surroundings and be sure to visit again in the summer to see how the environment has changed!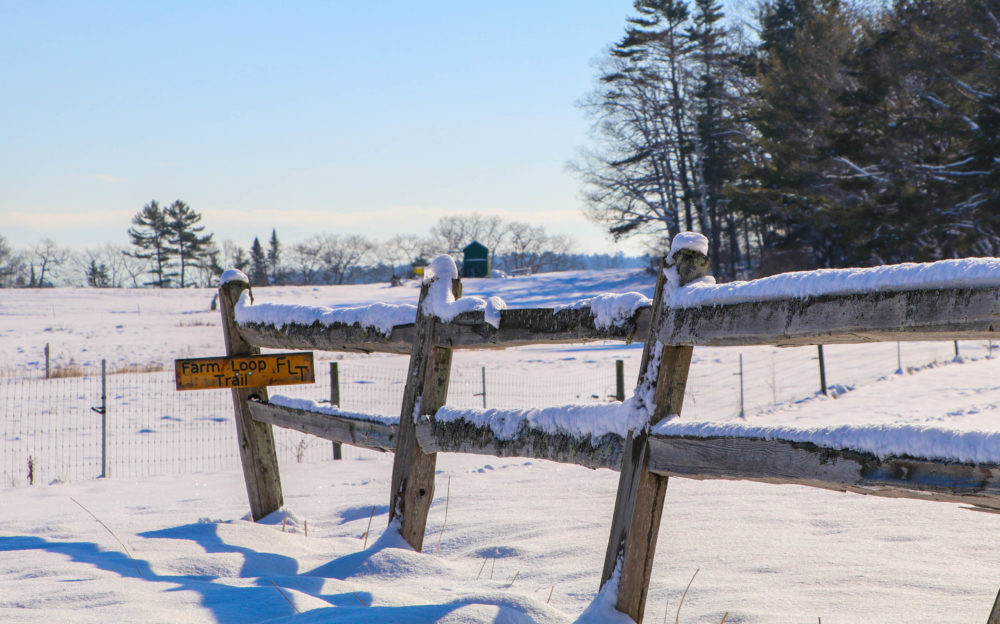 Warm Up
The Visitor Entrance to our farmhouse is open during daytime hours. Please feel free to come indoors to warm up or use the restroom. We have Wolfe's Neck Center merchandise and value-added products for a taste of summer.
Organic Dairy Barn
Drive farther down the road past our campground office and Farm Café (closed for the season) until you approach the site of the new organic dairy barn on your left. Since the Spring of 2019, our new organic dairy barn is the hub of all dairy operations at the farm. It includes an open-air barn housing our milking herd, a parlor room, and milk storage areas.
We milk our herd twice each day in the parlor. Stop by between 4-5pm on any given day to watch the milking up close from our parlor viewing room. When not milking, the cows rest in a compost bedded pack of sawdust and manure, many layers deep. Our farmers routinely rotate the pack to aerate it and maintain a clean place for them to lay down. The milking herd is also fed several times throughout the day to be sure they have enough calories to maintain their body condition and produce milk.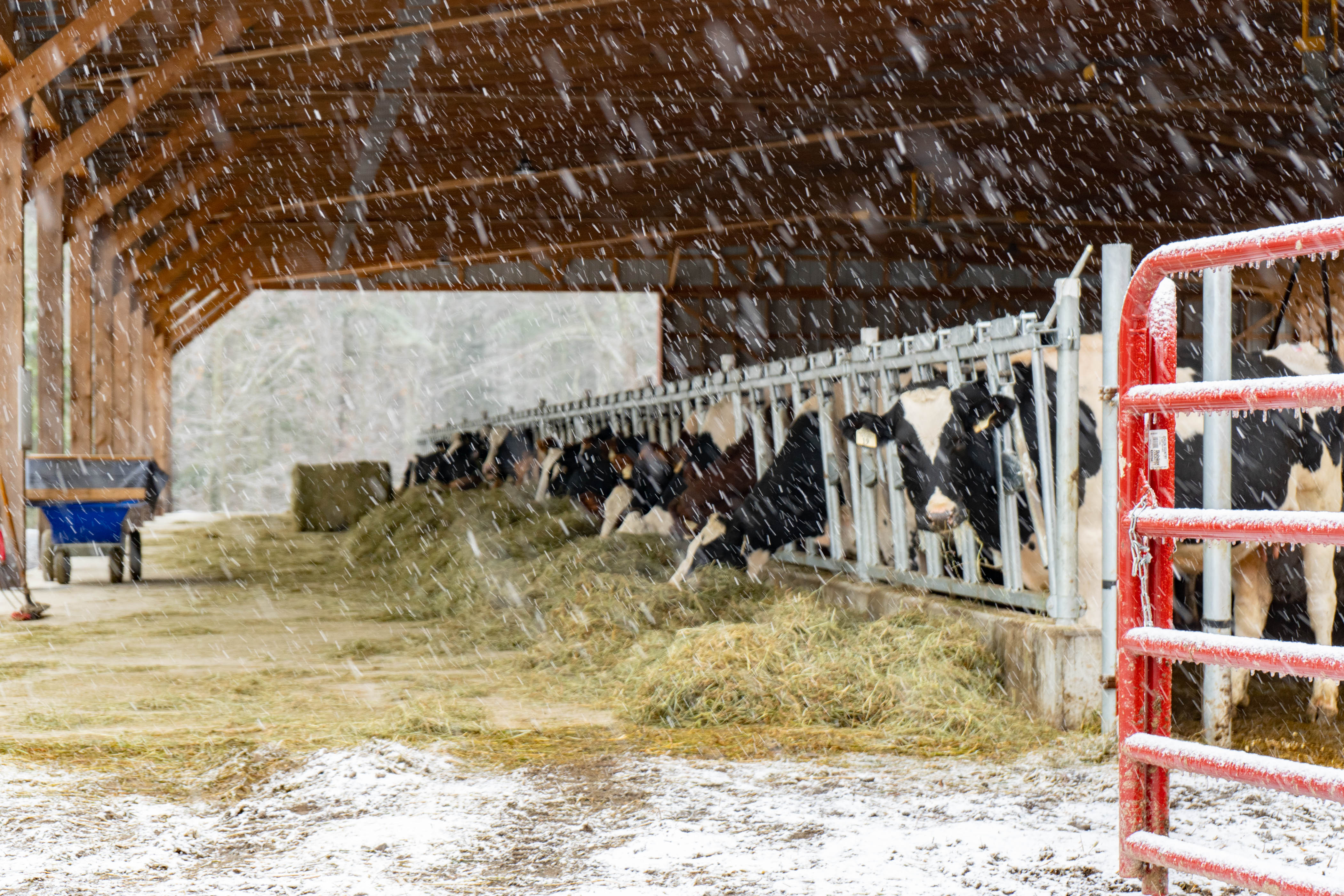 Sign Up for More
Looking to stay in touch beyond your visit? Check our online calendar for upcoming events, such as workshops, Farmer for the Morning children's programs, and more.
Support this special place by joining our community with an annual membership. You make these farm interactions and new educational programs possible! Learn more today.
← Back to Blog