My Three-Week Experience as a Farm Intern
By Calvin Soule, Maine Coast Waldorf Senior
Every year my school, Maine Coast Waldorf School in Freeport, asks the seniors to find and participate in an internship for three weeks in April. Instead of going to school during that time, we work all day at our chosen business or organization. I wanted my internship to be meaningful, interesting, active, and outside as much as possible. I was happy to have found that match in an opportunity at Wolfe's Neck Center.
Some elements of what I did during my internship felt familiar, as farming on a much smaller scale has always been a part of my life. Since I was 9 years old my family has lived on a small homestead where we grow fruits and vegetables, and raise chickens, sheep, goats, ducks, and pigs. Given the time of year, I expected and looked forward to spending a lot of time in the greenhouse. But I also learned so much more through a very broad range of experiences – both on and off the farm!
During the course of my three weeks at Wolfe's Neck, I worked primarily in on fruit and vegetable production with Tom and Sarah of the farm staff. A few days into my internship, we traveled to the State House in Augusta to watch a legislative meeting about LD 786, an act to reduce hunger and promote Maine's agriculture. It was exciting to see so many farmers there, advocating for this important issue for many low-income families.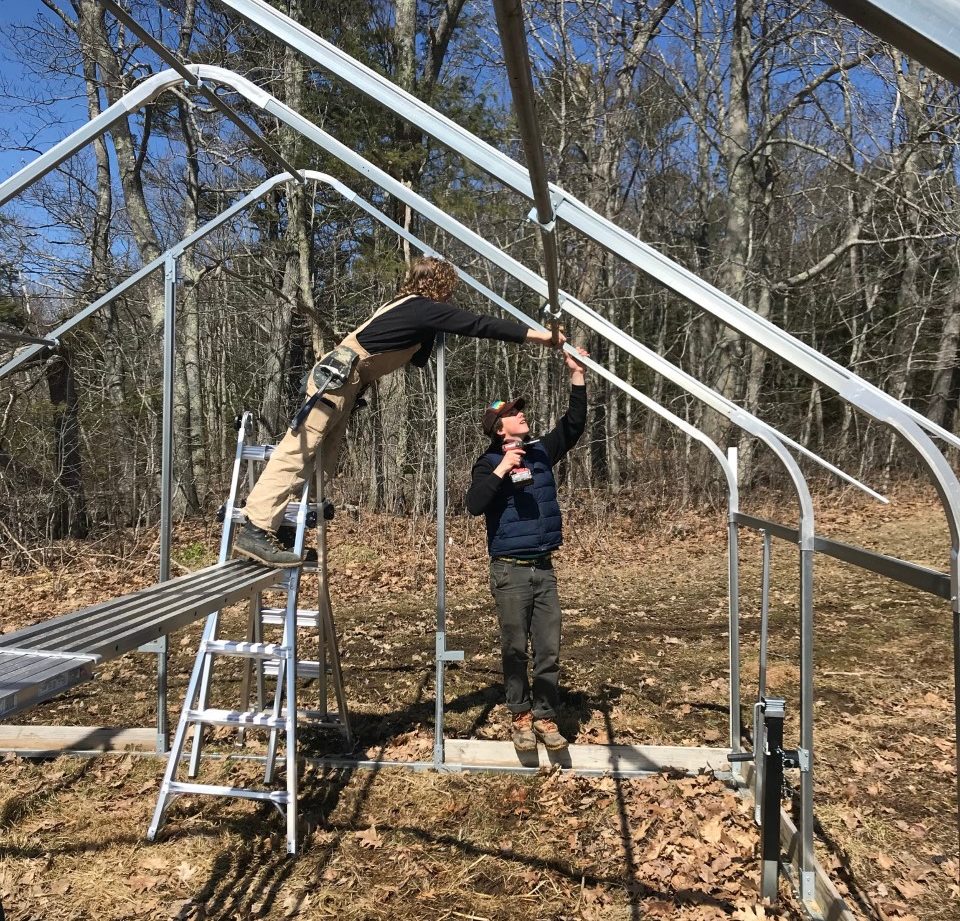 Back at the farm, I did a fair amount of seeding, planting, weeding and harvesting of the early greens. We also built a greenhouse and raspberry harvest boxes. One day, we led a volunteer group of high schoolers in mulching the fruit trees. I found this aspect of Wolfe's Neck's work really interesting- giving students a meaningful opportunity to experience farming is beneficial for both the farmer and student. I've been interested to learn about all the workshops, summer camps, and volunteer opportunities that Wolfe's Neck offers, further encouraging the community to get closer to the food they eat, the farmers who grow it, and the land where it's grown.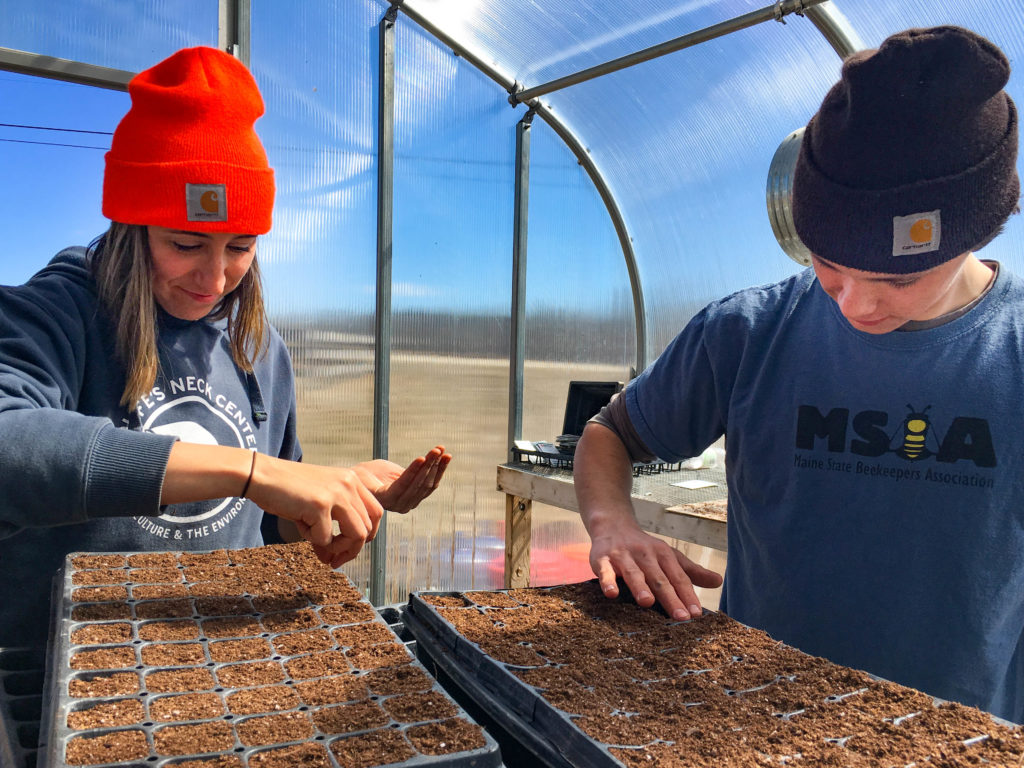 Interning with Tom and Sarah was a great way for me to expand my knowledge of growing fruits and vegetables and to have fun while doing it. They both know so much about their work and were able to answer all of my questions and introduce me to new farming techniques that I had never experienced before. Like the "flame weeder" which is a much more advanced and fun way of weeding than what I grew up using.
We put in a lot of hard work during the time that I was at the farm and I'm very impressed that all the farmers are able to keep that up on a day to day basis! Although we worked hard, there were plenty of opportunities to have fun and talk while we were out on the farm. Something that I learned from my experience was how adaptive and flexible farmers need to be. From weather to pests, farmers are always having to deal with factors that are often out of their hands and to be successful they must work through the conditions. Some of the work days ranged from sunny 65-degree days to rainy or even snowy cold ones. Tom and Sarah were always able to adjust their plans or push through and make progress even when the weather was not on their side.
This experience has reminded me how much I enjoy working outside and with plants, no matter what the weather is. There's so much satisfaction in watching – and helping – them grow! My time spent on the farm has opened my eyes to the amazing gift that Wolfe's Neck offers to the community- not only the fresh, organic food that people can buy locally, but the educational programming, and beautiful land it shares as well. I'd Love to thank everyone at the farm for welcoming me into the community and especially to Tom and Sarah for being great teachers and friends to me during my three weeks at the farm. Have a great season, everyone!
← Back to Blog