Wolfe's Neck Center's Research Director, Dorn Cox, has been named the inaugural recipient of the Hugh Hammond Bennett Excellence in Conservation Award by the National Association of Conversation Districts' (NACD) at their annual meeting in Nashville, Tennessee.  Named after Hugh Hammond Bennett, a pioneer of the modern soil conservation movement and founder of the Soil Conservation Service, a federal program now known as the Natural Resources Conservation Service, the award recognizes individuals for their extraordinary achievements in and contributions to the soil and water conservation movement in the United States.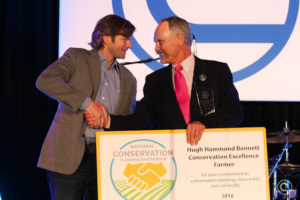 Cox, of Lee, N.H. is vice president of the New Hampshire Association of Conservation Districts, and serves as a county supervisor and vice-chair of the Strafford County Conservation District.  Cox is the founder of FarmOS, a new open-source software platform for farm management, planning, and record keeping.  FarmOS seeks to connect existing tools to each other in a way that will provide farmers with faster, more accurate guidance on how to make improvements on their own farm, to simultaneously speed up the pace of improvement of soil health, reduce climate impact and increase economic viability.
In partnership with Stonyfield Organic and under Cox's leadership, Wolfe's Neck Center is utilizing FarmOS' software by spearheading the new Regenerative Farm Observatory and Network.  WNC's Regenerative Farm Observatory will become a replicable model to demonstrate how agriculture can be a part of the solution for climate change, with a focus on building healthy soils.  It will serve as a hub for regenerative agriculture research, demonstration, and education for farmers and the general public about opportunities to increase soil carbon capture and reduce GHG emissions from agriculture.
To build the Regenerative Farm Network, hundreds of farms will be recruited from existing networks and supply chains to share regenerative farming practices and be trained to use FarmOS for data management, decision support, and monitoring of sustainability practices.  Ultimately, Wolfe's Neck and Stonyfield's plan is to build a network of farms, in Stonyfield's supply chain and beyond, that are using FarmOS to build healthy soils and fight climate change.
Upon receiving the Bennett Award, Cox said, "It is astonishing how much we have accomplished over the last decade, and yet soil health is a multi-generational team sport, a shared human endeavor.  And we are just getting started!  I look forward to what we will accomplish when we harness the on-farm innovation and inspiration yet to come."
← Back to Blog