By Allison Carrier, Communications & Development Assistant
Set amidst peaceful, natural surroundings, OceanView at Falmouth is an established community of distinctive residences offering a wide variety of cottages and apartments, as well as a care continuum with assisted living and memory care. It's also an active and welcoming community, with a beautifully wooded and landscaped 80-acre campus that is only minutes from the cultural opportunities, attractions, sporting events, international airport, world class restaurants and excellent medical resources of Portland.  
Wolfe's Neck Center is settled just to the north of the OceanView living community, and made for a perfect destination as part of their scheduled trip programs. We welcomed a group of thirty or so on a beautiful, sunny summer morning at the farm. For many of them, this was their first time visiting. Soon after arriving, they gathered under a tent and sat around picnic tables, fully embracing the rustic accommodations that come with visiting a farm! 
OceanView residents receive an impressive array of services that enhance their independent lifestyles and allow them to enjoy their retirement to the fullest. Their Enrichment Academy offers a diverse array of educational topics. This day's educational topic was all about our mission: To transform our relationship with farming and food for a healthier planet. Under the tent, the group watched a five-minute video called "The Power of this Place", meant to give them context for our work and see the impact we are having on visitors and beyond.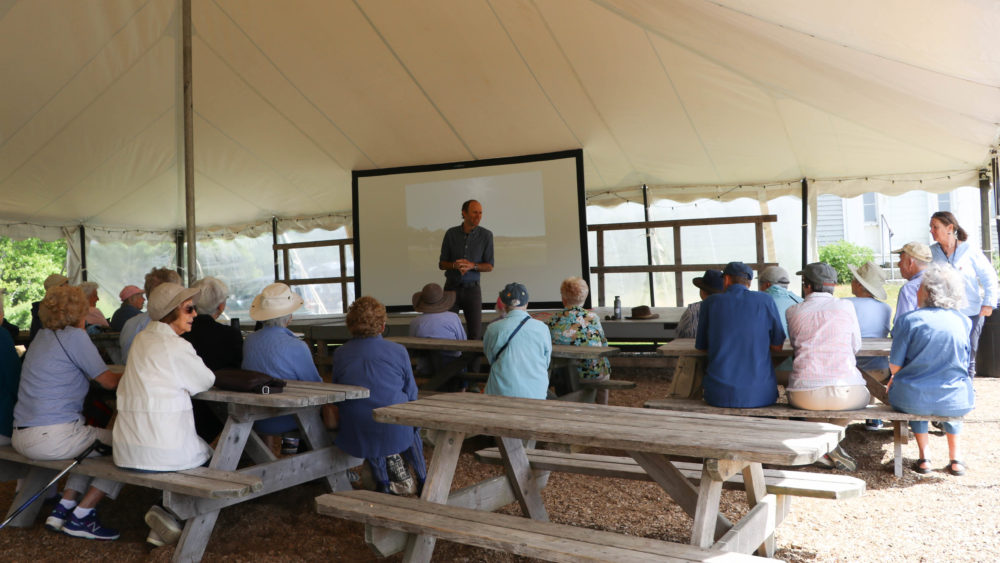 Unlike some of their other trips to the Portland Symphony or to a Sea Dogs game, the next leg of our jaunt was aboard a hay wagon! Farmer Matt drove the tractor while participants joined WNC Executive Director Dave Herring and board member Tom Whelan around various sites on the scenic property. Along the way they learned about our organic dairy program, oceanfront campground, the soil health research happening near Brocklebank field, and the decades-long story of how Wolfe's Neck Farm became Wolfe's Neck Center as it is today.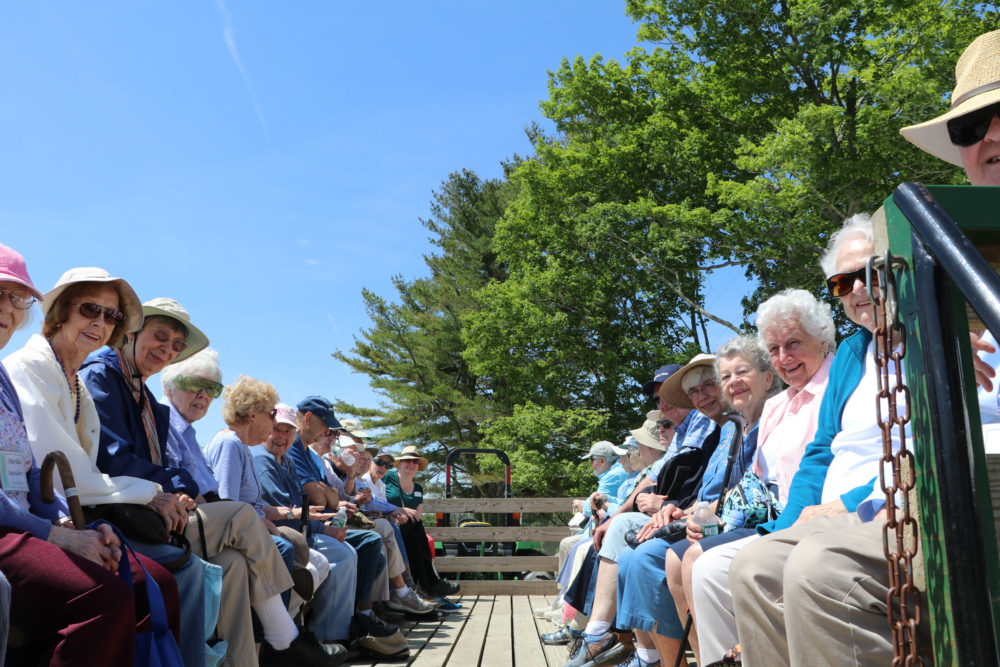 After nearly two hours on the hay wagon immersing themselves in the beauty and depth of the Wolfe's Neck Center campus, it was time for lunch. We served some tasty wraps with a heaping salad of several farm-grown ingredients. Our famous Wolfe-it-Down salad mix was topped with carrots and radishes from our early season produce in the greenhouse. 
While we were eager to provide program participants with nutritious, farm fresh food, OceanView also has a commitment to sustainability in their community. Not only do they serve locally-sourced food, but additionally use environmentally-friendly cleaning products, recycle, and compost. They even have a solar-powered electric vehicle charging station and use more than forty solar energy systems on their campus (including the heating of their 4-season, salt-water pool).
Lunch was a tasty and refreshing midday break for participants, but the program would not have been complete without a visit into the barns to see the dairy and livestock. Seeing the playful calves in the barn brought back fond memories of childhood for many of the participants, who were quick to share stories of past experiences on New England farms.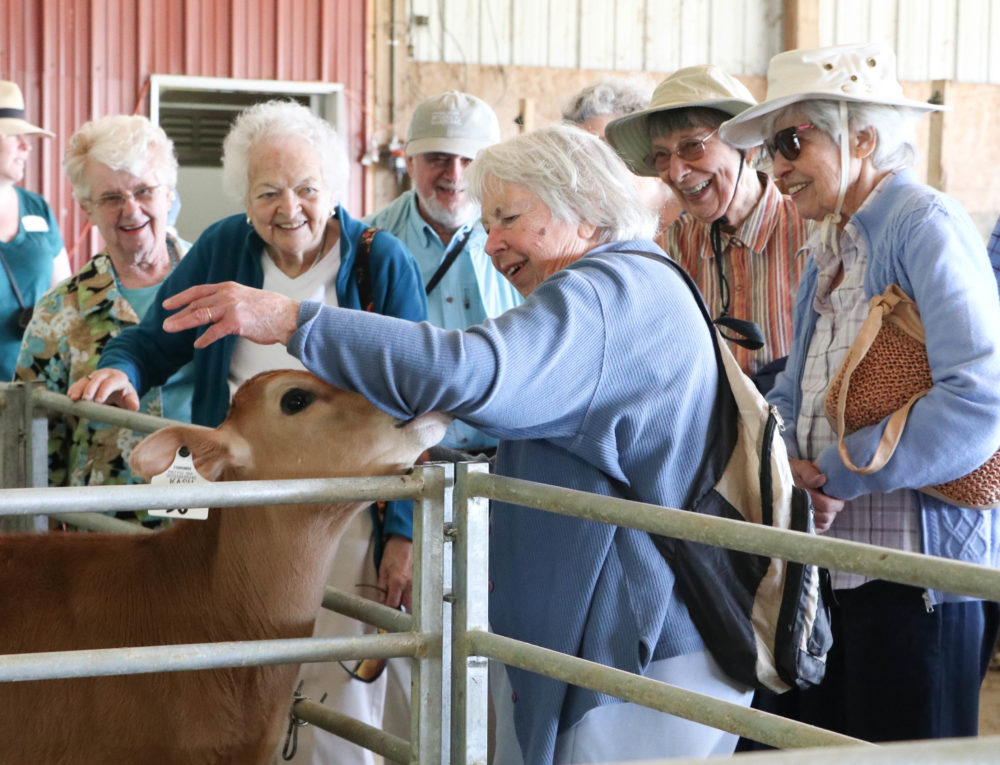 We were so grateful to have a visit from likeminded OceanView residents and could see how much their "green retirement lifestyle" fit with our organization's values. Their community is focused on making peace of mind a key ingredient in creating stress-free living at OceanView — from services like health care management, flexible dining options, transportation and housekeeping, so that residents can focus their time and energy on making the most of every day. For program participants, that meant taking a trip to Wolfe's Neck Center, connecting to our special working landscape, and reconnecting to memories of their childhood farm experiences.
← Back to Blog