A note from our Executive Director: The coming new year brings the excitement of a brand new dairy facility to carry on the mission of Wolfe's Neck Center. I am thrilled by how far we have come in our commitment to the future of farming in Maine, and I see it being brighter and healthier with the dedication of the apprentices training to be the next generation of farmers. There is no better time to be a part of this impact on farming and food that will ripple through Maine, New England, and beyond. I hope you will join us.
---
Six Functional Features of our New Dairy Facility
When the first of the dairy cows arrived at Wolfe's Neck Center in 2015, it was under the condition that their barn was only a temporary home. It was not originally designed for dairy farming, and there is more than meets the eye when it comes to the needs of an efficient organic farming operation. While it is essential for us as a working educational farm to give visitors a chance to see the animals up close, it is just as important for the farmers to be able to milk, feed, and graze the cows in a productive way.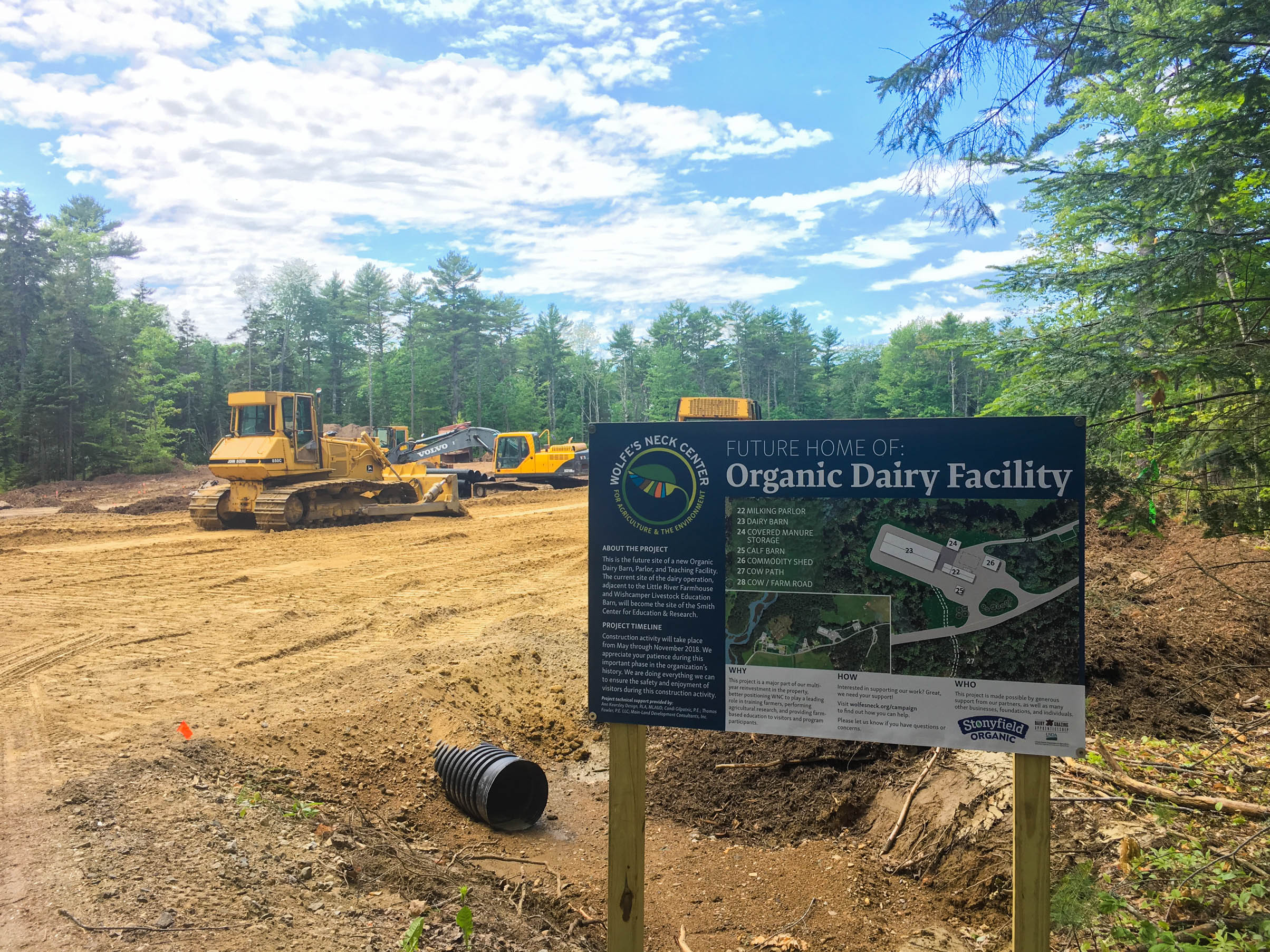 After years of planning and connecting with experts in the industry, Wolfe's Neck Center has undergone the construction of an entirely new dairy facility to address the priorities of a first-of-its-kind organic dairy program. Just down the road a few hundred feet from its current site, the new dairy barn also sits adjacent to a calf barn, covered manure storage, milking parlor, and offices for the farmers. The attention to detail that the new facility underwent dismisses many needs for the workarounds that our farmers are often faced with. Although they are eager to begin farming in an all new space, they are quick to emphasize that having an improved facility will make the cows happier and more comfortable, and that is their number one priority. Take a look at six ways this new dairy facility will improve our organic dairy program operation for the cows, farmers, and apprentices:
1. Improved ventilation through the dairy barn
Regardless of the temperature outside, any covered space holding a herd requires ventilation. This is because cows are continuously producing heat and moisture, making the air warm and humid. A flow of drier, cooler air outside is important for their comfort, and was a key feature of the new barn.
This barn allows air to flow throughout. It has open ends and an open back wall that can be shut with a curtain in the winter. The air will circulate thanks to two 14-foot high-volume low-speed fans. This will help keep the cows cooler in the summer and breathing fresh air year-round. The fans also help dry out the surface of the bedded pack where the cows lounge.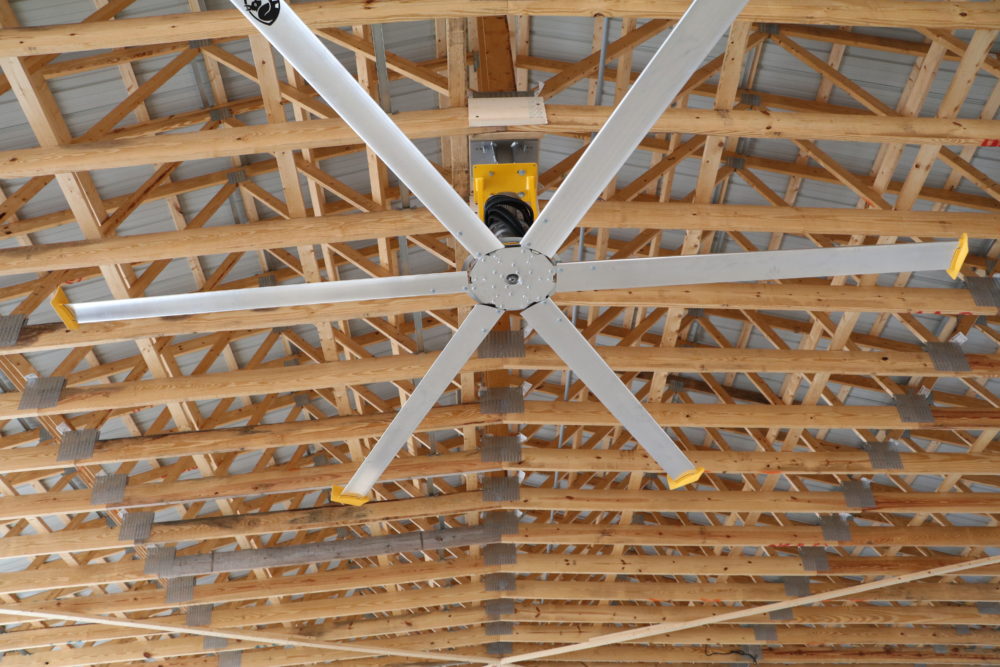 2. A more functional milking parlor
Our cows get milked every morning and evening in an indoor milking parlor behind the barn. The new milking parlor will look and feel very similar for our cows, as the structure of milking eight cows at a time will remain consistent. There will be improvements, however, to make the space more comfortable and open. The building will be wider, allowing cows to enter and exit the parlor more easily. It will also be very airy and bright with good air circulation and lighting. The parlor will be easy to wash up and keep clean, and the farmers will have quick access to parts and services should a problem arise. An exciting new feature of the new parlor is that the setup of the space will allow for public viewing of our daily milkings, which in the past have been inaccessible except during scheduled milking tours.
3. Easier access to more pasture
A significant component of our organic dairy program is not only to train new apprentices, but to farm in a way that improves the health of the soil. One way we do this is by letting our cows out on pasture in the warmer months. They graze our pastures in a highly managed way and eat a healthy mix of grasses. In turn, their manure leaves nutrients in the soil that our large population of dung beetles help bury. Managed rotational grazing with adequate rest periods between grazing events is essential to healthy soils and helps us produce quality milk.
In the past, we've been extremely restricted on how many acres we could graze with our milking herd. A lot of fertile pastures were unreachable. Now, with the position of the new site, there's easier access to an additional 28 acres of grazing. This means our cows will be able to graze longer into the fall season and our "rest" periods for each field can be longer, giving more time for grasses to regrow. We can also now practice non-sequential rotational grazing, moving the herd from one paddock to another in a different area instead of a paddock directly adjacent to it. This will help with fly and parasite control.
4. A covered space for cows to eat
While our cows have always had access to the covered shelter of the barn, feeding time required heading outside. The cows don't mind, but the farmers had to fight with soaked and snowy hay depending on the season. With the new facility, they'll now be able to feed our cows under the protection of a roof. The cows will eat more and waste less. They will also be happier to stand and eat in the comfort of a nice, dry space sheltered from the weather.
The feed alley is also equipped to accommodate the individual needs of certain cows. There will be headlocks to safely restrain the cows and allow specific quantities of concentrate to be fed to individual cows depending on their stage of lactation. This will also be useful for vet checks, AI breeding, and ultimately will reduce costs by saving money on feed.
5. A Compost-bedded pack barn
A significantly improved feature of the new facility—"the coolest part of the whole site", according to Ben, our Livestock Manager & Herdsman—is the compost-bedded pack (CBP) barn. With this setup, we will effectively store about half of all the manure the cows make over a winter right underneath them! We currently store manure in a deep open pit with a concrete bottom. Instead of farmers having to clean off the bedded pack by hand three times a day, they'll focus on maintaining a rich compost within the barn.
A CBP barn starts with a foot or so of fine, loose sawdust. Twice a day, every day, the farmers will aerate the pack with a cultivator or rototiller to incorporate the manure and urine into this sawdust. They also use a probe to check on moisture level and will add sawdust to maintain a moisture level of about 45%. This makes a warm, soft, dry and safe compost bed for the cows to lounge around on without being restricted. This type of barn arrangement is called "loose housing".  Come spring time, we will have a barn full of beautiful compost ready to spread on our pastures!
6. Improved site flow
It has been motivating to know that over the past few years, our organic dairy program has made great strides in addressing some of the challenges that face New England's farming future and its impact on our planet. The challenges facing the industry are not going away, however, so our focus is on further developing Wolfe's Neck Center as a resource for training new farmers. The new dairy facility creates a central place for our apprentices to be immersed in all aspects of dairy farming, and improving site flow was of high importance in the site plan.
This new site will allow for much easier access for our milk truck and supply deliveries. It also separates feeding activity and manure handling for a safer and more sanitary operating system. The farmers will have their own indoor spaces, too. There will be an office and bathroom in the parlor and milkhouse building, and a dry place to store supplies. Matt and Ben, who oversee our farming operations and organic dairy program, agree that this is a huge, positive step forward in the evolution of our mission to train organic dairy farmers and help keep small farms viable.
---
Support our important work to train new farmers through our organic dairy program by
making a donation of any amount.
← Back to Blog