A photographer, basketball player, and sheep shearer — these are just some of the many talents that our apprentices have outside of learning to become dairy farmers. Tierney is one of the most recent apprentices to join our team, and she is no exception in bringing a unique mix of talents to the dedicated team. We sat down with her to learn a bit more about her background and what brought her to Wolfe's Neck Center.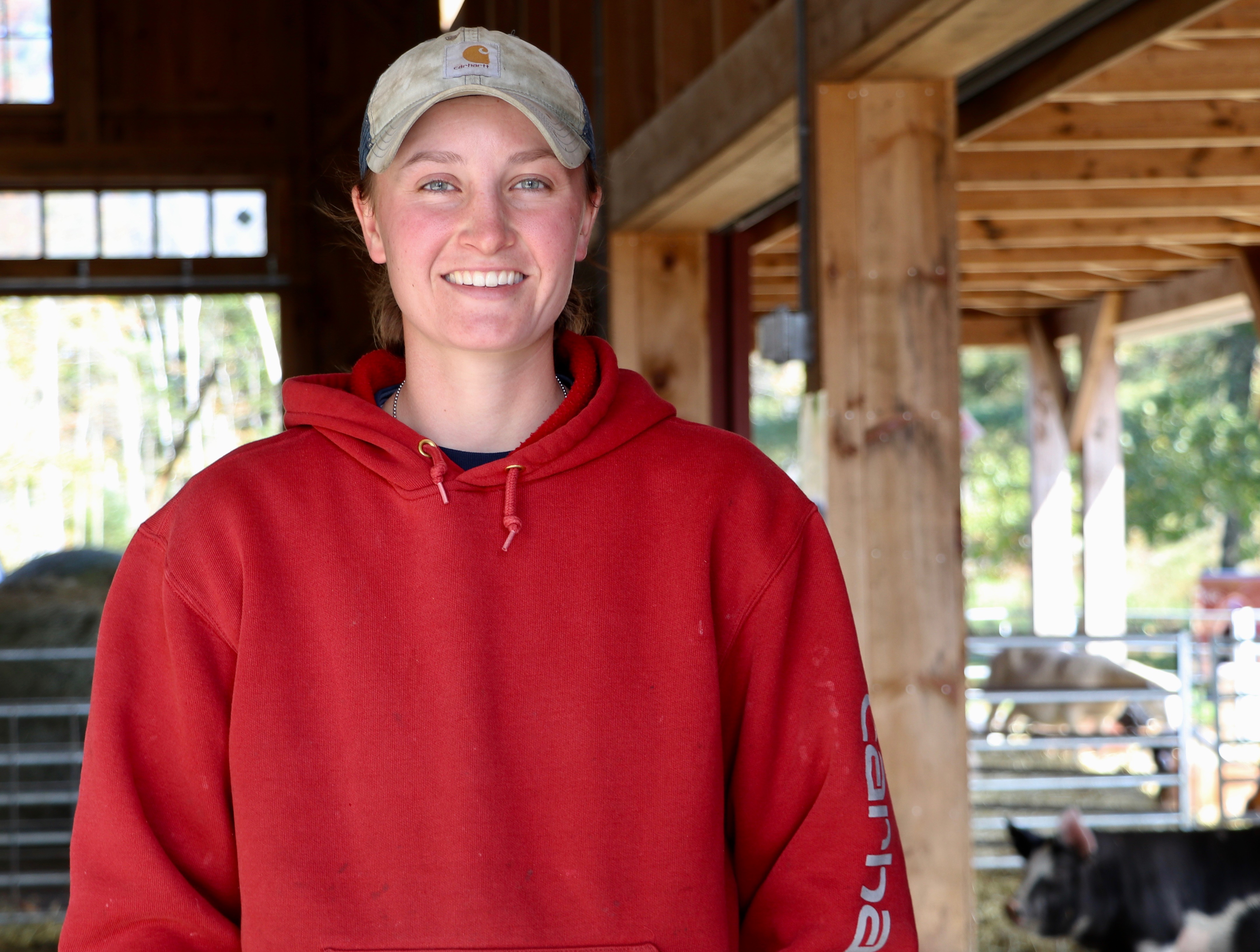 Tell us where you're from and how farming has played a role in your life before coming here.
I'm from Ansonia, Connecticut and did not have any connection to farming while growing up. While in high school I worked at a horse farm and became really interested in the agricultural industry. I went on to the University of Connecticut and decided to study ag, ultimately earning a degree in Sustainable Farm and Ranch Management. I was afforded the opportunity to work with the dairy cows, beef cattle, sheep and poultry while at UCONN. I enjoyed working with all of these animals, but was really drawn to the dairy cows.  I love the farming life and the challenges and rewards of the occupation.
Why are you interested in dairy farming specifically?
I really liked the structure and overall day-to-day operations of a dairy farm.  There are many things you can do with a dairy herd, from producing milk to creating value-added products and everything in between. There are many entrepreneurial opportunities with a dairy herd as long as you get creative.  Also, having a dairy does not mean you are limited to just having dairy cows. Dairy farms are very compatible with raising other livestock, too.
Did you have any connection to Maine before joining the dairy program?
I had never been to Maine before visiting Wolfe's Neck Center.  When I got to Freeport, the beautiful downtown area was very cool. I love the quiet farm area along the coast. Maine is an awesome location, as it has coastline, mountains, woods, and farms all in one area. I really enjoy being outside and exploring new places, so I was drawn to all the possible outdoor activities and different places and sites available to visit while I'm here.
Tell us more about you and your interests outside of agriculture.
I love sports. Growing up, I always played sports and my whole family has always been involved in athletics.  I come from a town that has a storied high school football program, so I love watching football and going to games.  My favorite sport is basketball. I have played basketball since I was five and I played in college. I was a part of three national championships while I was at UCONN and I met so many great people and had an amazing experience playing. I also love being outdoors—going hiking, fishing, kayaking, riding my bike, and even doing yard work.  My other hobbies include knitting, reading, and hanging out with friends.
How did you first hear about our organic dairy program and what about it drew you in?
I first found the Dairy Grazing Apprenticeship program while I was searching for job opportunities after college. I was really drawn to the fact that this program is set up to prepare a new farmer for eventually owning or managing their own farm.  I also saw this program as a great networking opportunity.  What drew me to Wolfe's Neck Center in particular (aside from the atmosphere) was the amount of knowledge I would gain in many different areas. Here I will learn about mechanics, animal health, finances, management, sales, and much more.  I felt that Wolfe's Neck Center would afford me the greatest opportunity to be able to gain knowledge and training to become a successful farmer.
What's been your favorite part so far?
There are so many favorites already. On my very first day, I was already trained to milk, perform daily farm chores, and drive the skid steer. I really enjoy learning about mechanics and operating the machines, as being able to fix things and properly run machines is pivotal to the success of a farm. I also love milking the cows.  During milking I am up close to the cows and I have come to learn that each one has their own personality and they are all pretty awesome.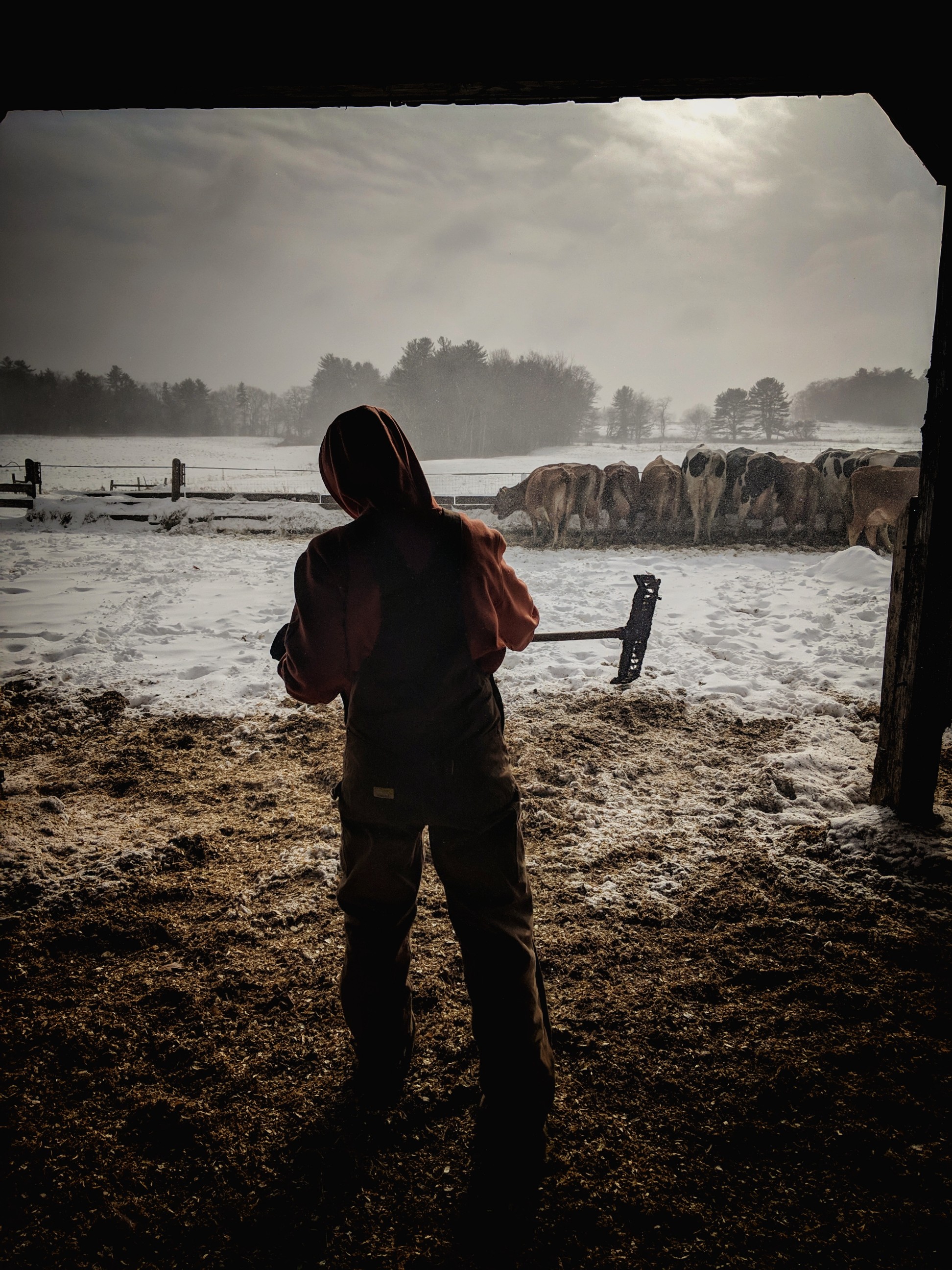 Have you thought of your long-term plans for farming?
My ultimate goal is to have my own farm.  I do not quite know where I would like to settle yet, but I hope to have a dairy herd and would love to possibly produce some value-added products along with selling milk.  I really enjoy working with other livestock like sheep, pigs, and chickens, so I plan to raise them too.  I have also thought about other ways to attract people to my farm and would love to have a farm store or restaurant or different activities to offer the public.  Being an apprentice at Wolfe's Neck Center will give me the opportunity to gather so much knowledge and put me on the right track to planning and obtaining my farm.
← Back to Blog