By Allison Carrier, Communications & Development Assistant
The mulched pathways of our West Bay fruit and vegetable plot see a lot of foot traffic. Whether it's our farm interns, curious campers, participants in our Farm to Foil program, Farm Campers, or volunteer groups, the space is an accessible way for visitors to see how food is grown on a farm using organic practices.
Group of volunteers from visiting organizations along with our farm interns.
One group that has been spending time in the production plot this summer is LearningWorks. The Portland-based organization offers innovative programs for teens and young adults to realize their potential through educational offerings. Every week from May through November a group of young adults in their Youth Building Alternatives (YBA) program visit our vegetable plot. Youth Building Alternatives serves teens who benefit from alternatives to the traditional education system. "I've been taking students up to the farm to work with Tom for 3 years, and it's absolutely my favorite place to volunteer with the students," says Julie Stone, Jobs for Maine Graduates Specialist with LearningWorks. "Wolfe's Neck Center has really been an amazing partnership, and I really consider myself lucky to be able to bring my students up to volunteer."
This year, participants in their Service Works program are joining YBA as part of their work providing positive alternatives to juvenile justice system involvement through community service projects for young people making amends for non-violent offenses. While here, they work with our Fruit & Vegetable Production Manager, Tom Prohl, and our farm interns—getting their hands in the soil while working outside and helping harvest fresh fruit and vegetables for local food pantries.
Recently, YBA program participants visiting Wolfe's Neck Center harvested hundreds of pounds of three varieties of summer squash, kale, onions, and potatoes. Our farm interns delivered most to food pantries in Yarmouth and Freeport, but the group brought some back to Portland to use for a cooking workshop with a chef later in the week. By all accounts, the farm to plate experience was eye opening. After tasting the final recipe, one YBA youth, Haylie, remarked that, "the fresh produce was wonderful and really yummy." Tori, another YBA youth, noticed that "the freshness of the veggies made me actually like veggies!"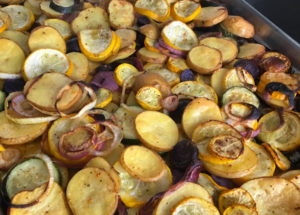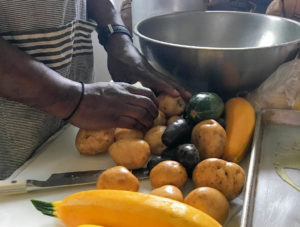 When the Youth Building Alternatives group returned to their home base for the cooking element, they sliced all the vegetables to roast.
The Service Works group had another goal for the Wolfe's Neck Center trip, one with community service in mind. The group returned in a following week and harvested over a hundred pounds of potatoes from our plot and donated them to Wayside Food Programs, another Portland-based nonprofit organization increasing access to nutritious food in Southern Maine. "We love having the opportunity to collaborate with community members throughout Southern Maine in an effort to create positive connections," says LearningWorks staff.
LearningWorks participants' help harvest fresh vegetables and fruit, and organizations like Wayside and Good Shepherd Food Bank facilitate efficient regional distribution. The collaboration has been a fruitful way to address connecting with our wider community as part of our efforts to address local hunger and the need for more cooking and nutrition education built around fresh produce. We appreciate Harvard Pilgrim Healthcare Foundation's support for these partnerships that broaden our impact.
When you walk through the Wolfe's Neck Center vegetable plot, you are not only seeing firsthand how our food is grown, but you are also witnessing one component of a state-wide effort to address food insecurity and community health throughout Maine.
← Back to Blog