Q&A with Joe Grady: Farming for a Healthier Planet
This year we welcomed Joe Grady of Two Coves Farm in Harpswell to our team as the Senior Director of Programs.
A teacher by training, his career took him to a school that was also a farm, using it as a tool to teach about the importance of what we eat and how it's raised. It was here that he kindled a passion for agriculture that would change his life.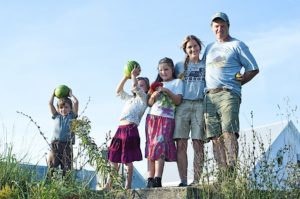 Grady eventually left teaching to start a small farm business with his wife Laura. In 2009 they created Two Coves Farm and have been there ever since. The philosophy of their farming model is rooted in regenerative agriculture practices, which is also key to Wolfe's Neck's approach to farming, farmer training, and public education.
We sat down with Grady to discuss the importance of farming for a healthier planet and the role it plays at Wolfe's Neck Center.
So, give us an overview of your farming model at Two Coves Farm.
Two Coves is a small family farm in Harpswell raising meat and eggs on pasture. We have always put our focus on the simple idea that the animals can do the work. We let the animals harvest their food as much as possible and impact the landscape as naturally as possible. We'd rather move them to the fields than transport the food to them. It's our job to keep them moving so we can allow the pasture time to recover and regrow, giving us increased opportunities to utilize what is grown.

Was regenerative farming a natural starting point for you or did it take some time and education?
When we started farming the phrase "regenerative agriculture" was not used much. For us it started with a realization that raising animals on pasture and letting them express their natural traits and inclinations produced healthier animals, better tasting and more nutritious food, and was a better way to care for the land. We seek to mimic the natural behavior of ruminant animals on grazing land. By doing this, we are capturing carbon from the air and putting it to use in the soil. The fact that we can also produce better food and healthier animals in the process made it a "no brainer"!
As a farmer, why is it important for you to consider the health of your land in conjunction with the quality of your products?
They go hand in hand. If we are not managing our land in ways that produce the most active, healthy soil, the plants grown and the animals that eat them will not be healthy. As a result, the products will be inferior, they will not be in demand, and the business won't last.
How does this differ from other farming models?
The biggest mistake in the world of conventional, large scale agriculture is that the focus is on feeding the plant, not feeding the soil. Regenerative practices focus on the soil. A truly healthy plant will be the result of a strong and vibrant soil community working beneath the surface to feed that plant and give it access to what it needs.
What is Wolfe's Neck Center's role in the sphere of regenerative agriculture?
WNC is currently playing an impactful role on education and exposure. We can currently expose people to the ideas and practices of regenerative agriculture with our programs, workshops, our Farm Store, and our Farm Café.
We also have two robust training programs for aspiring farmers. Our fruit and vegetable training program trains new farmers through seasonal internships in the field. Additionally, our two-year organic dairy apprenticeship program is literally turning out the next generation of organic dairy farmers trained in organic and regenerative land care and farming practices. This, to me, is such an exciting program that can play a role not just in spreading the understanding and use of these practices but also in the revitalization of an industry very important to Maine and New England's agricultural past and future.
← Back to Blog