By Allison Carrier, Communications & Development Assistant
New York, New York. The bright city lights, endless bustle of activity, and bursting opportunities for professional growth drew Sarah in immediately. Now, fifteen years later, it's what pushed her away. The real estate attorney with her own business decided to hang up her hat and make a lifechanging switch, following a draw for dirty hands and fresh air. Miraculously, she ended up at Wolfe's Neck Center as one of our three farm interns for the summer. Although her journey to our vegetable plot started in June, the story truly begins a few years ago, when career and city burnout took a taxing toll on her life.
It was 2014 and Sarah was an integral employee at the small real estate law firm where she worked. She was close with her coworkers and had worked there for nearly seven years. While the work was not the most ideal form of fulfillment, Sarah found satisfaction in other areas of her life. She traveled often, visiting friends near and far to disassociate herself with city life on the weekends. She found access to the outdoors by bicycle commuting, took advantage of the live music and restaurant scenes, all while enjoying the diversity of the city by meeting many types of people. Eventually, though, it felt like she was compensating for the void of no longer being happy in her professional career. But she had already been on this career track for years, so when her boss decided to close up the law firm and become a partner at another firm, it left Sarah at a crossroads.
This was an opportunity for Sarah to take a leap of faith, to get out of the industry she wasn't passionate about and the city she didn't love. However, she had friends there. She wasn't sure where she would go. And any career move would feel like starting over. She knew the time would come, but Sarah wasn't ready yet.
Thankfully, what had seemed like a tumultuous time when her boss closed the firm actually turned into a positive career step for her. After years of professional experience and building relationships with clients and within the industry, she found the independence to start her own practice. It was thrilling at first — she was doing this for herself, making her own money, making her own decisions. Yet there was still a void, and she longed for a better quality of life. Anytime she went away for the weekend, coming "home" to New York didn't feel like a comfort to her. She felt as though she simply didn't match the pace and attitude, the noise and crowds, the more money-focused and materialistic mindset that many of those around her seemed to thrive off of.
Moreover, her job wasn't doing much to justify living in a place where she wasn't happy. She admits she has never been passionate about real estate law, and even avoided networking events just so she wouldn't have to talk about real estate. Even still, any change would seem like starting over and she wasn't ready to make that leap unless she was excited about the opportunity. Over the next few years, she thrived on her own and continued to acquire new clients through word of mouth but knew it was finite — she was burnt out.
Soul searching takes many forms depending on the person. For Sarah, you could say she was soul searching for years, trying to find the option that best suited the big move that made it worth closing all the doors she had worked so hard to open. She found herself more and more longing for greater access to the outdoors and the idea of a career in food or the environment became more and more appealing. Much of her downtime was spent cooking, going to restaurants and farmers markets, reading and talking about food, and being outdoors, so naturally this is how she envisioned a brighter future looking.
This past winter, when she was in her hometown of Lewiston, Maine for the holiday season, Sarah dove into the book Animal, Vegetable, Miracle: A Year of Food Life by Barbara Kingsolver. That's when it clicked for her, and she knew she was ready to make the change happen. She began researching opportunities in the farming field, including apprenticeships through MOFGA and Stone Barns Center for Food & Agriculture in the Hudson River Valley. She also thought about culinary school, becoming a cheesemonger, working abroad, or taking time off. Whatever form it took, it was time to make the switch.
Soon after, an offer from Wolfe's Neck Center to be a seasonal farm intern guaranteed her next step. Sarah began to phase out her clients, packed her bags, and moved back to her Maine hometown. With the craziness of April and May behind her, a calm swept over at the start of June when she realized she had found her place here. In the past couple of months, Sarah has spent her weekdays out in the fields and greenhouses, harvesting produce, stocking the Farm Store, cultivating the plot, and learning the ins and outs of a lifestyle she had only ever daydreamed of.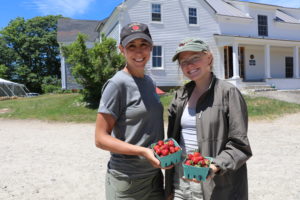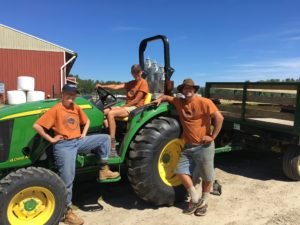 She admits she has yet to experience a "rough day" in the fields that she was warned about, and also admits that she doesn't miss a thing about the city (other than the friends she made there)! Yes, by any standard, she was successful in New York and had the pride of running her own business, but she was never fulfilled. Here, she feels satisfied every day. She considers her time here a "free education" in what could be the next phase of her life — potentially running a small-scale farm enterprise one day. She imagines what the possibilities could hold, with ideas of incorporating a hospitality element, retreats, or hosting workshops. Something tells her that marketing her space as a place for people in the city to get away and connect with the land would be a draw, too. Wherever the farm internship at Wolfe's Neck Center takes Sarah, she knows it was leap into an untold future that has paid off in more ways than one.
← Back to Blog