Common Traits of Small Farms in Maine
By Joe Grady, WNC Senior Director of Programs
Joe Grady is our Senior Director of Programs, but outside of Wolfe's Neck Center he also runs Two Coves Farm with his family of five. He gives us a closer look at these traits of a modern day small farmer, and how building connections can push the knowledge and appreciation for the value of small, local farms to new levels.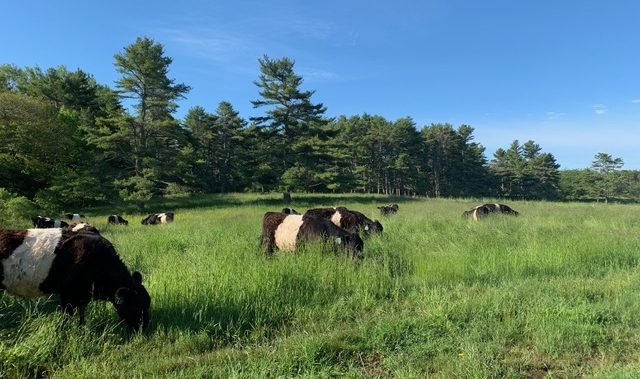 This pandemic and the measures that we are taking to combat the spread have forced all of us to adapt and change, and a community that we belong to has been no exception. We are members of the small farm community here in Maine; like many other producers we run our farm as a family, we market and sell our goods locally, generally direct to our customers. Some of us ask for deposits early in the year to help us fund the planning and startup of the new season (CSA); others focus their time and energy on the farmers markets and other public outlets where their goods are sold. Many of us survive by doing some combination of both. Regardless, as a community, we have spent years establishing, growing, and developing these markets and the relationships that support them. We are lucky to have the thriving and dynamic community of farms, of local food customers, as well as food focused organizations supporting us that we do.
Visit any numbers of small farms like ours in Maine and you will see some common traits. Two that will likely stand out are "adaptive" and "diverse". These two characteristics go hand in hand. Small farms tend to raise a diversity of products from a generally simple and multipurpose set of infrastructure and equipment. Space that is used for drying garlic in one season may hold hay in another. A shed or lean-to that houses equipment in the winter may be transformed to process poultry in the summer. We are constantly changing and transforming what we have to suit our needs at the time. The small farm is a diverse farm and an adaptive farm.
What we have seen in the past month is that these characteristics also make us more resilient: able to withstand or recover quickly from difficult conditions. Our systems are not rigid but are fluid, our outlook is not narrow but expansive, our work is not singular but multifaceted. Put simply, we are built for this. We are built to adapt and adjust, to shift priorities and focus when and where we need to. Curbside pickup and phone orders, delivery services and online ordering platforms just became the challenge of the day. Small farms just keep doing what they do which is adjust and adapt.
While it is our resilience to adapt to the day's challenges that keep us going, it is relationships formed that elevate our reach. Local, state, and nonprofit organizations jumped into action to support us, as they often do. State-wide and regional directories popped up directing consumers to where they could find our food now that "convenience" has other consequences.  Many folks are just beginning to see now what our customers have known for years. The loyalty and consistent patronage form our customers is built on connection, built on their knowledge of what we do, their understanding of our limitations, their appreciation for the quality we produce. In short, they recognize the value of the work we do, in a way that is simply not possible without the personal connections and relationships we have had to build to sell our products and stay in business.
My hope is that the current circumstances will initiate new connections that can push the knowledge and appreciation for the value of small, local farms to new levels. The only phrase I have heard uttered more often in the last month than "Are you guys open today?" is "Thank you for the work you do." Seems like a good place to start.
← Back to Blog