This post was written by Ben Gotschall, our Dairy Manager.
~~
Recently a potential apprentice candidate contacted me about Wolfe's Neck's dairy farmer training program. A college student majoring in English with an emphasis on Creative Writing, she will graduate soon and is looking for something to do next.  
"I was so excited to see that you're both a dairy farmer and a poet," her message read. "If at all possible, I would love to hear about how your farming and writing lives relate to each other."  
Is it unusual that an English major like Catherine would consider dairy farming? Revered New England poet Robert Frost milked a herd of Ayrshire cows every day for 11 years. Wendell Berry has lived and worked on the same Kentucky farm for nearly his whole life while producing highly influential writing. In a similar vein, although without similar success, I have attempted to blend the agricultural with the academic for most of my professional career. But I wasn't always certain that there was room for poetry in my life.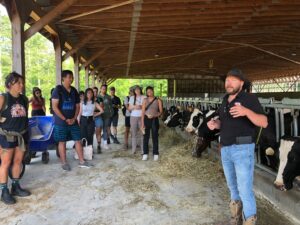 I remember a conversation I had with William Kloefkorn, my undergraduate advisor, and Nebraska State Poet, after my first semester pursuing an MFA in poetry at the University of Idaho. I told Bill I was homesick and wasn't sure I should continue. I didn't know if I fit in with the academic crowd or if there was any value in writing free-verse narrative agrarian poetry. Although Kloefkorn was the reason I tried writing poems in the first place and influenced me to hone my craft beyond the beginning stages, he didn't seem disappointed; he understood. But he thought for a minute and said, 
"Nebraska's got a lot of ranchers. And there are plenty of poets here, too." But then he said, "there aren't many people who can do them both."  
I pretty much made up my mind right then. 
I soon found that the life of a poet required me to keep several plates spinning at once. When I wasn't attending writing workshops or producing a manuscript, I taught undergraduates, chopped firewood to heat my cabin, and worked as a bartender to make enough cash for rent and tuition. One summer I rode cutting horses and doctored the sick calves my boss collected from the local sale barn. As a result of that experience, I wrote a poem called "Idaho" (see below). For me, that poem illustrates that even though I was immersed in new places, people and experiences, I never lost sight of my Nebraska home.  
After three years in Idaho, Master's degree in hand, I returned to my family's ranch in the Nebraska Sandhills, then accepted an opportunity to teach English in Lincoln in the fall of 2007. Becoming a professor, however, didn't mean leaving farming and ranching behind. I worked out a share-milking and land-access partnership with the owners of a nearby farmstead creamery, brought eight Jersey cows to their farm, and began selling raw milk to local customers. I milked cows in the mornings, taught classes in the afternoons, and learned how to make cheese at night. 
My customers came to the farm because they wanted good fresh food and they believed in supporting local producers. They wanted something more than what they could find stacked on a grocery store shelf. In the new social media marketing era, a poet's economy with language and an eye for striking imagery were useful skills that would bring people to the farm to experience its beauty. Being able to tell the story of how a particular cheese is made – its history and the philosophy of the people who make it – was a powerful way to connect with customers who bought food from me.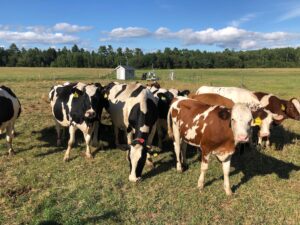 Now I mentor dairy grazing apprentices here at Wolfe's Neck Center and training these farmers in Maine is reminiscent of my time in academia. Back then in my English 1 classes, we looked at the rhetoric of food and the rural economy — how the things on our plate actually got there and why that process is the way it is. Required reading included books like Fateful Harvest by Duff Wilson, Fast Food Nation by Eric Schlosser, and The Omnivore's Dilemma by Michael Pollan. Now, instead of advising thesis candidates in non-fiction writing, I use poetry and philosophy to guide my decisions and the approach I take to help apprentices develop their skills. I view my work in agriculture and art as two sides of the same coin, and the time spent doing both, I think, is valuable. 
Another Nebraskan, the former National Poet Laureate Ted Kooser has said: 
Considering the ways in which so many of us waste our time, what would be wrong with a world in which everybody were writing poems? After all, there's a significant service to humanity in spending time doing no harm . . .  And I'd like a world . . . in which people actually took time to think about what they were saying. It would be, I'm certain, a more peaceful, more reasonable place. 
Does dairy farming relate to poetry? Yes, in a way. On good days while working I think and act in poetry, as seemingly menial tasks take form and the work becomes beautiful for its own sake: the sound of a cow's tongue tearing leaves of brome, the satisfaction of suds on stainless steel. Some of my best lines have been written while milking cows, baling hay, or stirring cheese curds. When it comes to poetry and farming, the same attention to detail and openness to possibility can enhance the experience – and outcome – of both, at the same time. 
Idaho
For the promise of two-fifty a week
I ride horses and doctor calves
while back home in Nebraska the grass is tall
as a horseback man's knee
and growing, rain needed for years
falling, Holt Creek's banks overflowing,
cattle ripening on hillsides.
Unable to calm the black mare, yet miles
from her tiring, I ride in circles
as another calf, scoured,
skeletal, insides parched,
drops to his knees
and with a swollen tongue
laps at the dust.
Searching for the withered vein,
my fingers tremble as I jab his neck yet again
with the needle, each bloodless thrust
an empty promise
until one thick drop beads purple.
I raise the plastic fluid bag
to start the drip.
The black mare watches me,
wide-eyed, untrusting
after what someone else did to her sometime,
and I don't want to swing into that borrowed saddle.
It doesn't fit either one of us
and my ass is sore, but for walking
these boots aren't much good.
I look to the east. The sun climbs above
the Treasure Valley, where it seems nothing
not watered by the hand of man grows.
Last summer's drought,
yearling brother to this newborn season,
feels like yesterday, and Nebraska waits,
only Wyoming away.
← Back to Blog