If you are attending our 2nd annual Farm to Easel Art Auction on September 23rd, expect it to be unlike any of our other events at Wolfe's Neck Center.  To give you a sense of what you can expect, we've outlined five things you may not know about the auction. Read on for a "tasting" of what will make this year's event so different from the other dinners in our Farm to Table series.
1. A cauldron of lamb stew, local tofu, and the season's plenty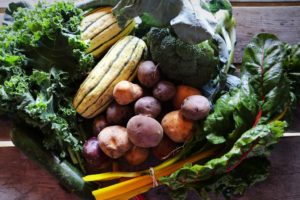 The start of fall brings an abundant harvest, and our partner chefs at Frontier and Gather sure know how to show it off. Make your way around the tasting stations to sample our pasture raised meats prepared in various forms. Yo
u'll find braised chicken with kimchee and other fermented salsas. In the corner of the y
ard, we'll have lamb stew bubbling over the fire in a cast iron cauldron, thickened with Wolfe's Neck squash and sweet potatoes. One vegan dish sure to excite is a new twist on a classic capresé salad. It will feature Wolfe's Neck tomatoes, growing in abundance in the shelter of our greenhouses, as well as Heiwa tofu, sourced locally.
Our fruit and vegetable farmers have put more focus this year on producing an assortment of value added products to extend the season and better utilize our growing yields. Find their jams, pickles, and more at a cheese station alongside Winter Hill Farm cheeses and local charcuterie.
2.  Paint brushes in the hands of our Farm Campers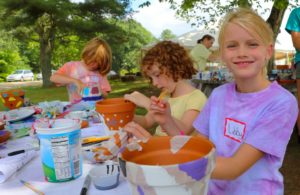 While many of our fundraising events are geared toward an adult crowd, much of what we do at Wolfe's Neck Center involves the child learner and next generation of informed eaters. We  thought there'd be no better way to showcase this mission than to get some paint brushes in the hands of some skillful Farm Campers! Head inside the Mallet Barn to see what these creative minds whipped out one summer morning – ten painted flower pots, all uniquely designed by campers ranging from age 6 to 10.
The flower pots will be available for purchase for $25 each, with contributions going to one significant upcoming project: our Farm Discovery Gardens. Slated to begin construction in 2019, the gardens will be one of the biggest and most experience-enhancing endeavors in the coming years. We are in the midst of a crowdfunding campaign to raise $75,000 for the project, and this is one way you can contribute. Click here to learn more about what the gardens will look like, and its significance in our capital campaign reinvestment in the campus.
3.  Chef-prepared food…at your house?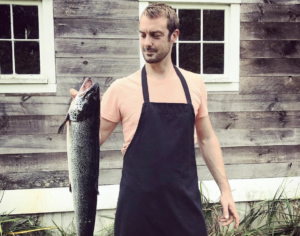 As is typical for our Farm to Table events, we give our featured partner chefs creative license to use our farm ingredients in their innovative and delicious creations. This time around, in addition to enjoying food at the event, you will even have a chance to take the Farm to Table concept into your home.
Renowned local chef Barton Seaver is generously contributing a special dinner package to the Live Auction portion of our afternoon. The package includes dinner for 10-12 guests prepared in your home by the celebrated chef, author, and internationally recognized speaker on sustainable seafood. Seaver will develop multiple courses in consultation with the host, accounting for dietary and allergy restrictions and will feature local, seasonal seafood, vegetables, and wines complementary of the courses.
Seaver began his career as an executive chef in Washington D.C where he was recognized with 3 Rising Culinary Star and 2 Best New Restaurant awards.  His restaurant, Hook was named by Bon Appetit as one of the top ten eco-friendly restaurants in America. He is also the author of 7 books and his most recent book, American Seafood: Heritage, Culture & Cookery From Sea to Shining Sea, is a guide to over 500 species as well as a riveting history of one of our country's most iconic industries.
Before becoming the Founder and Chief Education Officer of the Coastal Culinary Academy in Maine, Bart was the Director of the Sustainable Seafood and Health Initiative at the Center for Health and the Global Environment at the Harvard T.H. Chan School of Public Health.
This is an auction item you won't want to miss, offered by a wonderful, generous, and inspiring storyteller.
4.  Art with a mission
If you are reading this, you have some connection to this place. All of the talented artists participating in our auction showcase their relationship to Wolfe's Neck Center through their own interpretation of the prompt we provided them with. In our invitation for the artists to participate, we asked them to find inspiration in our mission statement: "To transform our relationship with farming and food for a healthier planet."
We have been blown away by not only the breadth of what this statement has led artists to create, but also by how many recognizable sites across the farm are present in the collection of art submissions that will be up for bid at the event. We hope that your perception of either this place or our work presents itself in one of the pieces.
5.  Some talented staff artists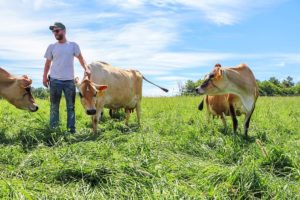 Among our office and farm workers are some shining stars with a knack for creating artwork after-hours. In the silent auction collection, take a look at the pieces by three members of our staff.
Marissa Mastors, Digital Communications Manager, has taken up pottery as a weekly hobby over the past year: 
Marissa is grateful to be working in her dream job, as WNC's Digital Communications Manager. She and her husband decided to root back in New England and make the Portland, Oregon to Portland, Maine move in 2017.  To survive her first Maine winter, Marissa took up a new hobby, taking weekly ceramics classes at Portland Pottery. She immediately fell in love with the medium, and has been an avid learner and craftswoman ever since. She finds nothing more enjoyable then eating a homegrown meal out of a vessel she made herself.  After less than a year as a dedicated potter, she is excited and proud to share her art with the greater Wolfe's Neck community!
Haden Gooch, Dairy Apprentice, is actively using his hands and finding ways to express his creativity, even when out on pasture with the herd: 
As a dairy farmer, I enjoy using photos to give people a true perspective on farming – both the dirt and the beauty. As much as possible, I try to reflect the reality of the day-to-day, especially from the perspective of the animals in our care. In my down time, I have picked up woodworking as hobby and try as much as possible to create objects that marry utility and creativity. This piece brings together two important modes of expression in my daily life.
Mary Lynn Miller, Junior Counselor Leadership Coordinator, shared her art background to the staff last summer, and we knew she would be a great addition to our auction: 
Born into a family of generations of artists, art has been a natural part of my life since the beginning. I grew up drawing while watching my dad sketch and sculpt. I pursued training by studying fashion design at Parsons School of Design in New York City and through personal workshops with classical painters.
As an educator at WNC, I have the fantastic opportunity to be part of a team working toward a transformative mission. My illustration is meant to convey how Wolfe's Neck Center helps connect the public with farming and sustainability.
Whether it is the menu, art, or connection to Wolfe's Neck Center that compels you to attend our Farm to Easel Art Auction, we invite you to take part in an event here like no other.  Only a few tickets are left!  Purchase yours today before they sell out!
← Back to Blog